SAVE AT UDEMY
It is never too late to start learning a new language or to play the piano, the guitar or to find your vocation in a new industry. Be it technology, photography, it and software, design and many more. With UDEMY, you never stop learning because it is the online platform that offers a wide range of courses on many topics. Start your learning activities right now and pick up your UDEMY voucher from Promonix to secure free services or an unbeatable discount.
HOW DO YOU FIND THE BEST UDEMY OFFER?
If you are a bargain hunter then you must take one of UDEMY coupons available on our page. It is the easiest way to save money. The coupons can give either a certain percentage off or a fixed amount of money that will be deducted from your order value. If, for instance, you are interested in several courses at once, it is recommended to redeem a percentage voucher. Make sure you read all the details for each voucher so you can grab the right one for you.
We are always happy when we can buy something on a special price but free offers are definitely even better. At UDEMY, you get access to over 2000 free courses, all of them up to date and classified by category. It is a great way to try UDEMY before actually paying for a whole learning program.
UDEMY doesn't have a sale category available through the whole year but it does have sales periods. Most of them occur at the beginning and at the end of the year. OF course, UDEMY has special deals and discounts on celebrations like Black Friday or Valentine's Day.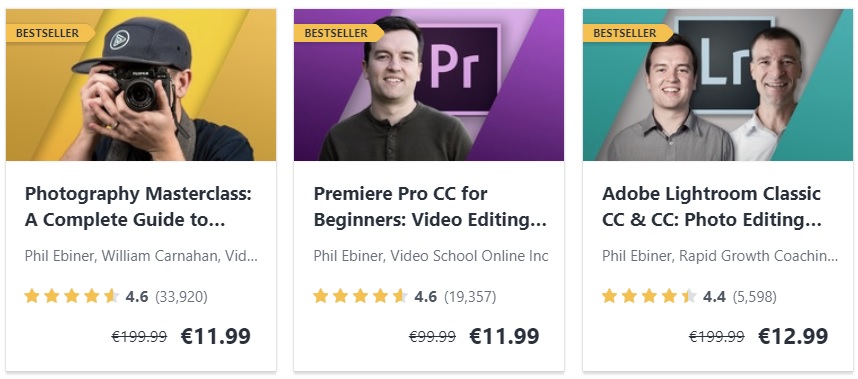 IT'S THAT EASY TO REDEEM YOUR UDEMY VOUCHER CODE
It is not a difficult task to redeem a voucher code. Have a look at all the vouchers available on our page to see if the code fits your order or not. Study the redemption condition and when you find the one that is suitable for your order, click on Get Deal and Promonix will forward you automatically to the promotion page on UDEMY. Sometimes you will find vouchers that have code, you have to copy the code, go to UDEMY website, select the courses you want to take and paste the voucher code in the field provided on the order overview.
DO YOU WANT TO SAVE MORE?
Who would say no to this question? Of course we all want to save more so we can have our pocket money. At Promonix you will find many other voucher codes that you can use for distance learning courses on many topics. Have a look at similar online platform like Mondly, Pimsleur or Shutterstock to broaden your horizons and become an expert in many industries.
EVERYTHING FOR YOUR ORDER AT UDEMY
Is this the first time you are using UDEMY? Do you want to find out what is important to acknowledge on the ordering process but you don't want to waste your time searching for the right answers? We've already done this for you. Below you will find a brief description about shipping and payment methods, refund policy and Customer Support Team.
Payment – UDEMY supports different payment methods depending on your location and what country your account is registered in. Usually you can pay by Credit and Debit Cards (Visa, MasterCard, American Express and Discover), PayPal, ApplePay and GooglePay as well as by Cash Payments and Bank transfers.
Shipping – The courses are online so all you have to do is to create an account and pay for the course you want to take. You can sign into your account every time you want to use it.
Return (exchange) – UDEMY offers you a 30-day Money Back Guarantee policy which means that you can quickly request a refund within 30 days from your purchase if you are not fully satisfied with the course.
Contact – Have you read the FAQs page but you didn't get the help you wanted? Well, then you can get in touch with your course instructor. You have to go to your instructor's profile page and send him a message. If you still can't receive any help then you can contact the Customer Support Team from UDEMY by sending an email using the online contact form or by chatting live with one of UDEMY's representatives.
DO YOU NEED SUPPORT?
If you are still unsure on how to redeem you voucher because an error message appears, there is no need to panic. Read the following tips to avoid all of this hassle.
Correctly entered code? Did you type the code by yourself? It means a typing mistake has crept in. Maybe you swapped letters and numbers or you missed the capitalization of a letter. Double check your code again and correct it if necessary. All use the copy-paste function and you won't have this problem anymore.
Redemption conditions observed? You have to take into consideration all the redemption conditions for each voucher. Sometimes you may need to have a minimum order value, like to purchase subscription plans for a certain amount of money or maybe the offer is available for existing customers. Check all the details.
Code already used? You can only redeem each coupon code once, after that it expires. If this king of error appears, it means you have used the code on a previous order. Just choose a different promotion code from our page and enjoy your discount.
TOP TOPICS ON UDEMY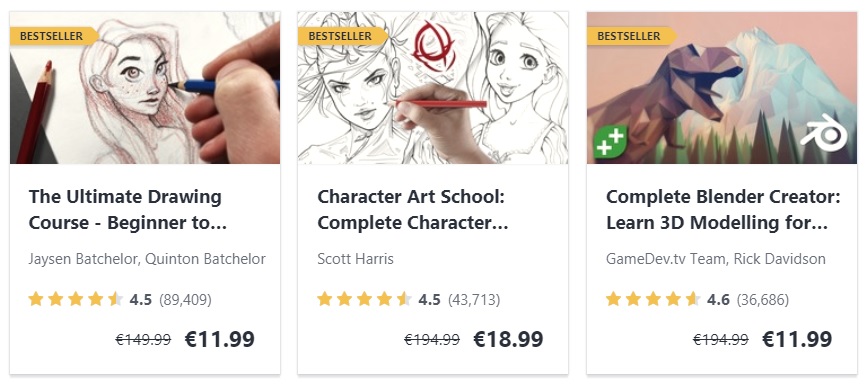 Trusted by famous companies including Booking.com, Mercedes-Benz, Pinterest, Adidas and SUrveyMonkey, UDEMY is the online learning and teaching platform available not only for individuals but also for professionals. We use our smartphones for everything and we rely on these small gadgets to keep up with cultural events, socializing with friends or booking tickets for our holiday. Have a leap of faith, download the app and start learning with UDEMY. You can become a pro in many fields. Become an expert in Reiki, Drawing, Mindfulness, Python, and French and at the end you will receive a Certificate of completion that will demonstrate your accomplishments. When a green or gold trophy will appear on the course dashboard it means you have finished all the lessons and you can download your certificate and share it directly on social media.
UDEMY IN DETAIL
Founded in 2010, UDEMY is an American leading global marketplace for teaching and learning that connects millions of students worldwide and that aims to help individuals reach their goals and pursue their dreams. Start your learning activity with more than 100.000 courses from only €11.99. Choose what is suitable for you from the world's largest selection of courses with new additions published monthly. From arts and crafts, travel and games to home improvement, health and fitness, from beauty and makeup to IT and software to a lot more, UDEMY is your go-to resource in terms of learning something new every day. Do you own a business and you want what is the best for your employees? With UDEMY for Business you receive the power to develop internal expertise and satisfy your employees' hunger for development, progress, learning and motivation. Grab the business demo to get access to the top 4000+ courses on any device, fresh content taught by more than 1500 experts and real-world practitioners as well as to learning insights and admin functionality.