SAVE AT SSENSE
SSENSE is an incredible source of inspiration for luxury fashion. This online store has a wide range of exceptional clothing, shoes and accessories for both women and men. If you have a limited budged but you still want to change your wardrobe. Then get a current SSENSE voucher code from us and take advantage of all discounts when buying luxury clothing.
HOW DO YOU FIND THE BEST SSENSE OFFER?
Take a look at the offers in our overview and grab one of the coupon codes available so you can benefit from luxury clothing and accessories at a bargain price. There are many times when a SSENSE coupon code grants you a discount of 10% or 30% or even 50% off on the entire range or on individual items of clothing and shoes and there are other times when you can save a fixed amount of money on your purchase. If you want to take advantage on one of these codes, sometimes you have to reach a minimum order value or you have to make your fist purchase on SSENSE, to be a new customer.
Do you want to benefit from free offers alongside with discounts? No problem. You get free worldwide shipping with the promotional coupon provided and in doesn't matter what you order and how much you spend on it.
Every fashion store has its sale section. Let yourself be surprised by the great prices that occur twice a year and last around several weeks. Each sale season begins at the end of the Fall/Winter and Spring/Summer collections. It is recommended to sign up to the newsletter on the SSENSE webpage to get notifications when the sale season begins.
IT'S THAT EASY TO REDEEM YOUR SSENSE VOUCHER CODE
You found a voucher code but you don't know how to use it. It is super simple. Look carefully at the SSENSE voucher codes on Promonix portal, find one that applies to your order and copy it from our page. Go to SSENSE, buy the goods you want and add them in the shopping cart, register or login into your account and search for the promotional box. Paste the code there and then the bonus will be shown on the final step of the purchase process. There are deals that don't need a code; when you find one of these, click on Get Deal box and you will be forwarded automatically o the promotion page.
DO YOU WANT TO SAVE MORE?
If you want to save even more after your purchase at SSENSE or if you simply didn't find the right products you were looking for today, then have a look at other similar online fashion stores. Here, at Promonix other discounts will wait for you, which you can use, for example, for stores like MATCHESFASHION or REVOLVE.
EVERYTHING FOR YOUR ORDER AT SSENSE
By now, you have already browsed the SSENSE website to find the perfect outfit for your style. Now, you need to know all of the essential information about the ordering process in the online stores. What is the refund policy? What can I do if I don't like a sweater or a skirt? What payment method is available? Or how can I get in touch with
Customer Support Team in case I need to solve an issue? These are a few of the questions that come in mind when shopping online. And you will find the answers in a minute.
Payment – Credit or Debit Card (VISA and Mastercard), PayPal, AliPAy
Shipping – There are different shipping costs depending on the delivery destination. For the US, the express shipping is free of charge while for Canada only the standard shipping is free of charge. For priority shipping you will have to pay $7.oo. For international shipping the costs vary between $20 and $40 and you can also benefit from free shipping as long as you reach a minimum order value: between $200 and $450.
Return (exchange) – SSENSE does not offer direct changes. You have to send back the merchandise for a refund and place another order. To benefit from a full refund, you have to follow the instructions on the website and return your merchandise with all the security tags and labels still attached in maximum 30 days of the delivery date. Free return shipping is available for customers located in Canada, the US, Japan and Hong-Kong. International customers have to pay for the return shipping costs.
Contact – For immediate answers to any type of questions regarding orders and shipping, anyone can contact Customer Care Team 24/7 by phone at the following numbers: +1 811 637 6002, +1 514 600 5818 (for English) and +1 514 700 2078 (for French), by email using the form provided on the website or by Live Chat.
DO YOU NEED SUPPORT?
When you want to redeem a voucher code, you have to keep in mind a few things so that redeeming goes smoothly, with no error message.
Correctly entered code? Typing in the voucher code manually can lead to typing errors. Therefore, we highly recommend that you copy the code and then simply paste it into the promotional field provided at SSENSE.
Redemption conditions observed? Another source of error could be represented by that fact that you have not met the redemption conditions. So check the details to see if the promotion is still valid or if you need to reach a minimum order value or if the voucher belongs to new or existing customers. Read the conditions in advance, so that nothing stands in your way.
Code already used? Do you use often the voucher codes available at Promonix? Then it is possible that you have already used the coupon. Remember you can redeem a code only once. Choose another one from our database and enjoy your discount.
TOP TOPICS ON SSENSE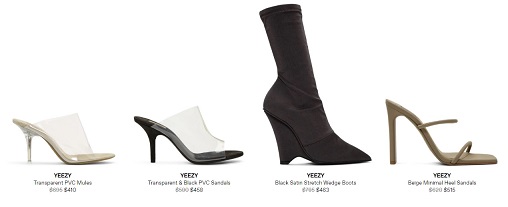 Meet SSENSE, the online luxury fashion retailer that welcomes you with a website designed in minimalist manner so you can find your favorite outfit in a second. SSENSE is focusing on the designers rather than products types introducing you in a world of challenge and authenticity. As soon as you click on www.ssense.com you will meet a new world of fashion and you can read interesting editorials that will keep you updated with everything that is going on in the fashion industry. Choose SSENSE and if you have an avant-garde, unique website or a blog or you are a fashion influencer on social media, join now the SSENSE Affiliate Program so you can earn commissions and access to other amazing benefits when your visitors purchase something from SSENSE.
SSENSE IN DETAIL
SSENSE was founded in 2003 and it is a brilliant high-end fashion platform, an international leader in the fashion industry known for its original content and carefully chosen selection of over 400 luxury fashion houses for both men and women including Miu Miu, Balenciaga, Off-White, Gucci, Chloe, Louis Vuitton or Vetements. You will find the perfect pieces for a casual daily wear, for a glamorous get-up or a cocktail party. With more than 2 million visitors on the website each month, this amazing luxury fashion retailer comes in handy for every fashion addict with fast worldwide shipping and a 24/7 Customer Care Team. In addition to the online platform, SSENSE opened a traditional brick-and-mortar boutique in 2010 in historic old Montréal. This boutique aims to be the space where you can find the most coveted fashion brands, installations and events as well as the space for personal shopping appointments and for the SSENSE Café.